Community in the Spotlight
Each month, AtHomeNet puts a Community in the Spotlight! Check out what these communities are doing to keep their residents coming back to the website and active in the community. You might even find a few ideas you can use on your own community website!
This Month's Spotlight Community is Crabapple Lake & Parc Community Association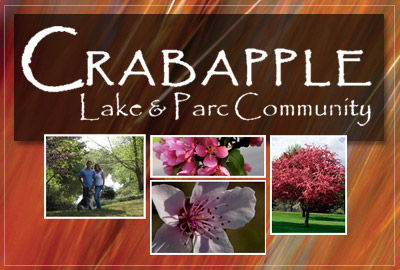 This month we have a very special community to highlight for you! Crabapple Lake & Parc Community Association POA (www.crabapplelakeparc.org) is located in historic Roswell, GA which is just a hop down the road from AtHomeNet's corporate office.
The combined communities of Crabapple Lake & Crabapple Parc Association joined AtHomeNet in 2000, and they have certainly grown along with us over the years. Their website is an excellent example of how to build a beautiful online presence for an association while also maintaining their site as an extensive information resource for their owners. With 260 homes located just outside Atlanta, they offer beautiful swim and tennis amenities and residents can also take advantage of the many social activities as well as a busy playground area and popular clubs like Bunco and Bookclub. Nearby, fine dining and antiquing opportunities are available in historic downtown Roswell.
Most notably, Crabapple Lake & Parc was awarded the Green Committee Award of Excellence/Evergreen Level by Community Associations Institute, in recognition of the high walk-ability factor in their association. Local churches, schools, shopping and medical facilities are all within easy walking distance of homes. In addition to being a National Wildlife Federation Certified Habitat Community, they have also been awarded the Atlanta Journal-Constitution's Golden Carrot Award for their outstanding efforts to increase the number of walkers in the neighborhood! Maryann Malena, the communications committee chair and website administrator, uses the AtHomeNet website as a resource to help educate residents and encourage environmental responsibility.
Maryann works to add new content to the website, update the events calendar, and bring everyone the latest news. "I have been the web admin since 2002 and it has helped me get to know my neighbors and become involved in my community. I'm addicted to sending eMail Bulletins, although I try to keep them to once per week except when we have a big event scheduled!" Maryann also makes great use of the website Photo Album - with "first day of school" pictures going back several years and a very popular Neighborhood Pets album that has even helped neighbors identify wayward pups and get them on their way back home again. The Message Board is one of the most popular features - known as a good resource for service provider recommendations, volunteer needs, and the latest school news updates.
We congratulate Crabapple Lake & Parc Community and Maryann on their awards and recognize them as a community that exhibits tireless dedication to keeping their owners informed and educated!
We are always searching for clients to feature in the AtHomeNet Gazette! If you would like to submit your community or organization to be considered for the Community in the Spotlight feature, please visit our Administrator's website and submit the eForm!