Community in the Spotlight
Every month our Support Team nominates an association that they feel are using the AtHomeNet website services in a special way. Be sure to visit often for great ideas you can implement in your own association!
This Month's Spotlight Community is Legacy of Leesburg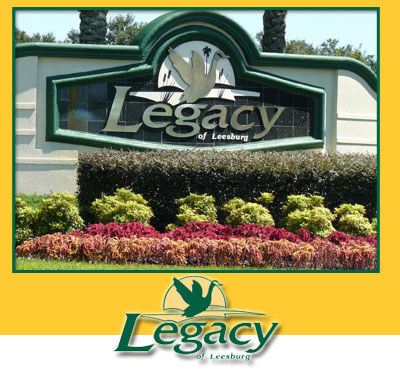 Welcome to the first edition of Client in the Spotlight for 2012! This month, we're proud to introduce you to the Legacy of Leesburg community, based in Leesburg, Florida. Established in 2001, the association currently has more than 800 homes and plenty of room for more residents to join the community! Located conveniently between each Florida coast, residents have easy access to beautiful beaches, DisneyWorld, and many other popular attractions. Inside the community, residents stay active with more than 90 different activities! These active adults play tennis, pickleball, dance, kayak and more. There's even groups of residents that get together to play cards, knit, and do ceramics.
The area also has a rich history! More than a century ago, the area was mined for a special kind of clay that was used to manufacture fine china. The clay was moved via train through what is now the streets of the Legacy community!
Website administrator and 9 year resident of Legacy, John Krupcale, says that the most popular feature of their website is the Message Board. Another important feature of the website is Reservations. "Prior to the AthomeNet web site, keeping track of building and room usage was difficult. Reservations has restored order to that process. Also, the Reviews section has gained in popularity to give everyone recommendations on dining, contractors and a variety of other things. Residents also fully utilize the Events Calendar portion of our website and the Address Book function."
As an administrator, John loves how easy it is to share important information quickly. He also noted that the Private Home Page Pop-Up has been used to alert residents of urgent news and other information the moment they log in to the website. John also had some nice things to say about our Support team! "The personal and direct support we get as Web Admins is extraordinary." Thanks John!
Congratulations to Legacy of Leesburg for being selected as the first Client in the Spotlight in 2012!
We are always searching for clients to feature in the AtHomeNet Gazette! If you would like to submit your community to be considered for the Community in the Spotlight feature, please contact us at [email protected] or visit the Administrator's website and submit the eForm!