Community in the Spotlight
Every month our Support Team nominates an association that they feel are using the AtHomeNet website services in a special way. Be sure to visit often for great ideas you can implement in your own association!
This Month's Spotlight Community is Renaissance Place at Hyde Park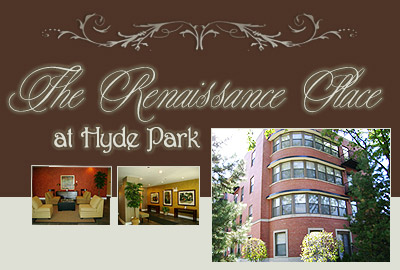 We are pleased to introduce our "Green and Growing" Client in the Spotlight: Renaissance Place at Hyde Park. Based in the windy city, Chicago, IL, this community was established in 2000 and has 204 condos on their property. Located near the University of Chicago and a short walk from President Barak Obama's home, this community is all about efficiency and becoming more "green"!
Renaissance Place is part of the Sudler Property Management Group, the first residential management firm in Chicago to become a member of the U.S. Green Building Council (USGBC). They desire to maintain sustainable facilities for residents & provide communications by printing less and fully utilizing all that their AtHomeNet website has to offer.
Website administrator Angela Roberson says they primarily use their website as their main communication source for providing information to residents, including: important dates, projects, events, documents, concierge services, party room reservations and more. She says one of the most popular committee's in their neighborhood is their Social Events Committee, providing residents with opportunities to get to know each other, celebrate, and socialize.
Living in a community that boasts a beautiful landscape and courtyard, residents enjoy being able to escape the hustle and bustle of the Chicago scene. They also love the opportunity they have to be so close to the various restaurants, entertainment , and culture of The Windy City.
Congratulations to Renaissance Place at Hyde Park for being selected as "Green and Growing Client" in the Spotlight for spring 2012!
We are always searching for communities to feature in the AtHomeNet Gazette! If you would like to submit your community to be considered for the Community in the Spotlight feature, please contact us at [email protected]!