Community in the Spotlight
Every month our Support Team nominates an association that they feel are using the AtHomeNet website services in a special way. Be sure to visit often for great ideas you can implement in your own association!
This Month's Spotlight Community is Country Club of the South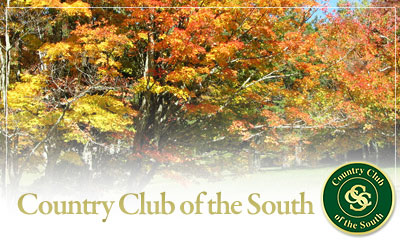 This month, we're introducing you to a community near AtHomeNet headquarters, Country Club of the South in Duluth, Georgia! The community of 733 homes and more than 1,500 residents was established in 1985 in the popular Gwinnett county area. Country Club of the South is convenient to the city as well as the picturesque Appalachian foothills. The city offers shopping, museums, the World of Coca-Cola, Stone Mountain Park, Six Flags, and the world's largest aquarium. North of the city are tons of wineries and plenty of hiking trails and beautiful mountain views.
Residents of all ages, from retirees to growing families also enjoy the amenities within the community including a recreation center, swimming pool, playgrounds, tennis and basketball courts. Everyone is connected through various events including Movies in the Park, Concerts, Swim and Tennis teams, and a Charity Guild. "Last summer, we enjoyed a community-wide celebration of our 25th anniversary and discovered there are several residents that have lived here since the establishment of the community in 1985," said website administrator and community newsletter editor, Susan Frye.
Like many communities, residents stay in the know about upcoming events and other important information with AtHomeNet Email Bulletins. Susan says that the Email Bulletins are her favorite feature because they are easy to use!
We are always searching for communities to feature in the AtHomeNet Gazette! If you would like to submit your community to be considered for the Community in the Spotlight feature, please contact us at [email protected]!