Community in the Spotlight
Every month our Support Team nominates an association that they feel are using the AtHomeNet website services in a special way. Be sure to visit often for great ideas you can implement in your own association!
This Month's Spotlight Community is Deer Hollow Condo Association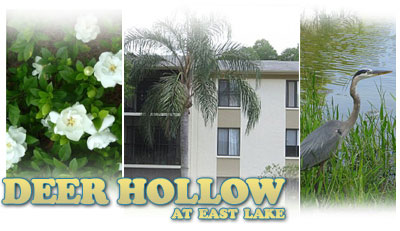 This month, we're showcasing one of our newest clients, the Deer Hollow Condo Association in Tarpon Springs, Florida! The community was established in 1984, and is home to more than 600 full-time and seasonal residents. Adjacent to the Brooker Creek Nature Preserve, an 8,500 acre preserve gives residents of the densely populated county the ability to experience wildlife sightings right in their community. Deer Hollow is also convenient to multiple local attractions including Busch Gardens, local beaches, Walt Disney World, Universal Studios, and SeaWorld.
Brad Neff, the volunteer web administrator for Deer Hollow is an 11 year resident who serves on the Board of Directors. "The major factor in choosing AtHomeNet was the fact that they specialize in communities, just like ours. I also wanted a company with a history of providing quality services and new features, like AtHomeNet," he said.
Deer Hollow uses their community website to stay connected to each other and Brad says that their most popular feature is the Photo Gallery. Since the launch of their website in late May of this year, the Photo Gallery has been viewed nearly 5,000 times! The Documents and Amenities features are also popular with website visitors. Brad feels like the Live Chat feature of the Deer Hollow website will also be popular with many residents as they continue to use the website in the future.
As an administrator, Brad notes that the widgets are one of his favorite features, "they allow for such an easy way to add fresh content to the site." He also enjoys the Photo Gallery feature because it's easy to add and manage the content.
We are always searching for communities to feature in the AtHomeNet Gazette! If you would like to submit your community to be considered for the Community in the Spotlight feature, please contact us at [email protected]!