Community in the Spotlight
Every month our Support Team nominates an association that they feel are using the AtHomeNet website services in a special way. Be sure to visit often for great ideas you can implement in your own association!
This Month's Spotlight Community is Easton Club East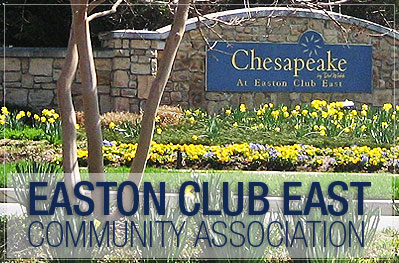 Located in the historic town of Easton, Maryland is our May Community in the Spotlight! Established in 2001, on the Eastern shore of Maryland between the Chesapeake Bay and the Atlantic Ocean, the community contains more than 450 homes. The community stays busy inside the neighborhood at the clubhouse with pool, tennis courts, billiards room, a putting green, seven small parks and six ponds! Residents are connected with each other through various events, clubs, and other activities and social programs.
Outside of the community, residents enjoy great seafood, museums, seaside activities including boating and kayaking, nearby historical towns, and lots of Farmers' Markets. Residents also participate in a variety of community service projects. "We have had organized trips to Virginia, West Virginia, Washington, DC, and within Maryland and to more distant places like Washington State and Oregon," remarked Webmaster, Danna Henderson. Danna is assisted by the Website Committee, whose members maintain different features of the website.
Danna cited the Rich Text Format editor as one of her favorite features of the Easton Club East website. "My favorite feature is the fantastic AtHomeNet support team that just did a beautiful redesign of our website," she also remarked. (Thanks Danna!)
Residents of the community enjoy the Photo Albums feature, making it easy to check out photos from community events. The Documents section is also popular, allowing residents to "easily find and search these documents online instead of digging through paper copies," said Danna. "Other popular areas are our Reviews of local service providers, our Message Board, and of course, our community Address Book."
We congratulate Easton Club East on being named the Community in the Spotlight for May and we look forward to many more years of supporting this beautiful, active community!
We are always searching for communities to feature in the AtHomeNet Gazette! If you would like to submit your community to be considered for the Community in the Spotlight feature, please contact us at [email protected] or visit the Administrator's website and submit the eForm!