Community in the Spotlight
Every month our Support Team nominates an association that they feel are using the AtHomeNet website services in a special way. Be sure to visit often for great ideas you can implement in your own association!
This Month's Spotlight Community is Governor's Club Property Owners Association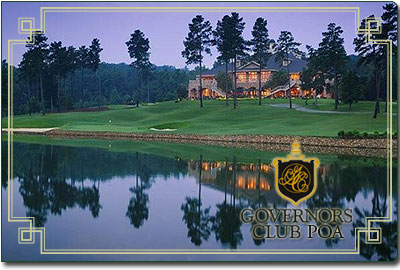 This month, we invite you to learn more about a private, golf course community located in the rapidly growing area of Chapel Hill, North Carolina. Established in 1988, the Governor's Club Property Owners Association is home to more than 850 residences on Edwards Mountain, the highest point in eastern North Carolina. The community has been chosen as the Large Scale Community of the Year in the State of North Carolina twice in the last three years! Located in the area of North Carolina known as "The Triangle", named in the top 10 of many important lists-Top Overall Metro, Best City for Entrepreneurs, Best City for Singles, Best Place to Live, and Best Place for Business and Careers-the community has a lot to offer residents of all walks of life.
Governors Club utilizes their AtHomeNet website to communicate with residents and does so with great success! According to Dennis McGarvey, the Governors Club POA Community Manager, the site is "accessed by over 70% of our homeowners, a statistic that is growing every year." Dennis has worked with AtHomeNet for more than 10 years with various communities. "I realize how important communicating with the membership is and I have found no better way than with an AtHomeNet site," he remarked.
Inside the gated community, residents have access to a 27 hole, Jack Nicklaus designed golf course, indoor and outdoor swimming pools, fitness and tennis centers and multiple walking trails. To keep residents even busier, there's even an Activities Director of the Club! Homeowners aren't just interested in activities, but also giving back. "They not only give of their money, but their time to many charitable and educational entities," remarks Alyce Twomey, a volunteer member of the POA Communications Committee and Website Administrator for Governors Club. "More than half of the funds given to The United Way in the county in which we are located, comes from Governors Club residents."
Alyce notes that the Address Book is the most popular feature on the website, replacing a printed version that quickly became out of date. The Announcements feature "is very popular, and allows residents to promote a fundraiser, recruit volunteers, or build support for a grassroots initiative," she says. Residents also appreciate the Email Bulletins feature for more than just social activities. During a winter storm, management staff was able to give updates to residents about road closings, and snow and ice removal efforts. "The first storm that we tried out this Email Bulletin system resulted in us receiving over 150 emails from owners thanking us for keeping them informed," said Alyce.
Dennis credits Alyce for the success of the website, due to her ability to handle the administration of the website as well as exploring different ways to use the site as a communication tool for various purposes. "Governors Club is a very active and involved community, and we used the Edit Modules, Documents and eForms features to design over 125 webpages that provide detailed information about the POA staff, board and committees; community and emergency resources; and the myriad of clubs, social events, volunteer opportunities and other activities available to residents," she said.
Congratulations to the Governors Club Property Owners Association for being named AtHomeNet's Community in the Spotlight! Thanks to them for sharing their beautiful community with us and we hope to hear that they are named Community of the Year for a third time!