Community in the Spotlight
Every month our Support Team nominates an association that they feel are using the AtHomeNet website services in a special way. Be sure to visit often for great ideas you can implement in your own association!
This Month's Spotlight Community is Gulf Shore Association of Condominiums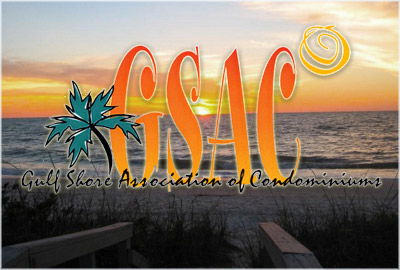 We're proud to introduce you to one of the newest members of the AtHomeNet family, the Gulf Shore Association of Condominiums (GSAC), headquartered in sunny Naples, Florida! Originally formed in the 1980s, the association offered area community managers a forum to discuss the issues faced by condominium associations. The organization has grown into a non-profit corporation directed by 13 elected representatives. According to Sally Tiffany, GSAC's Assistant Secretary and website administrator, "GSAC now has a membership of 58 and has proven itself to be a vital force in the area and a major source of information regarding everything from pet policies, safety issues, beach erosion, and state legislative issues which affect condominiums."
The website has only been up for a few months, but Sally really likes the ability to survey organization members with just a few clicks and she says that the convenience of communicating with members online has increased responsiveness. She's also noticed a reduction in calls to her office, a result of members finding the information that they need on the website. Sally also enjoys using the Email Bulletins feature to share information and news with all of the GSAC members.
Sally was also kind enough to give a "shout-out" to our amazing Support team! "I want to mention the service provided by your Support people. I have yet to hit them with a problem they cannot solve or a question they cannot answer."
Congratulations to Sally Tiffany and the Gulf Shore Association of Condominiums for being selected the Client in the Spotlight for November!
We are always searching for clients to feature in the AtHomeNet Gazette! If you would like to submit your community to be considered for the Community in the Spotlight feature, please contact us at [email protected] or visit the Administrator's website and submit the eForm!
For more information about organizational, non-profit, or small business websites, contact an Account Manager at [email protected]!