Community in the Spotlight
Every month our Support Team nominates an association that they feel are using the AtHomeNet website services in a special way. Be sure to visit often for great ideas you can implement in your own association!
This Month's Spotlight Community is Harbor Pointe Condominiums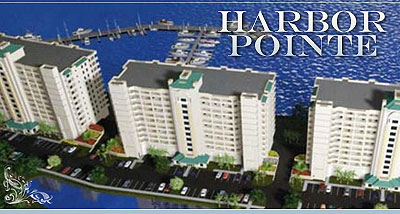 This month, we're excited to introduce you to the Harbor Pointe Condominiums, our final Client in the Spotlight for 2011! Located in Titusville, Florida, and incorporated in 2004, the Harbor Pointe condo association has 210 luxury, river front units, situated directly on the Indian River. The river views are only surpassed by the Canaveral National Seashore and the Kennedy Space Center, located directly across the water, offering residents a front-row seat to all shuttle launches! The amenity-rich association also has a pool, hot tub, sauna, clubhouse, tennis courts, a basketball court, private garages, and a private marina with 45 private boat slips exclusively for condo owners.
With so much to do and see, the residents of Harbor Pointe Condominiums use their AtHomeNet website provided by Leland Management to stay connected! Justin Kadtke, the Harbor Pointe Community Association Manager with Leland Management says that the most popular feature amongst residents is the Address Book. The Address Book gives residents the ability to find their neighbors and stay in touch.
As the website administrator, Justin's favorite feature is Email Bulletins. "The Email Bulletins have become an integral part to reopening the lines of communication between the owners, management, and the Board of Directors," he says. "Each month, the Board President sends out a President's Message with updates on Board activity, while I send out a monthly newsletter called 'The Manager's Corner', which keeps residents updated on all of the community happenings, recent issues, and upcoming projects."
Congratulations to Harbor Pointe Condominiums for being selected the Client in the Spotlight for December!
We are always searching for clients to feature in the AtHomeNet Gazette! If you would like to submit your community to be considered for the Community in the Spotlight feature, please contact us at [email protected] or visit the Administrator's website and submit the eForm!