Community in the Spotlight
Every month our Support Team nominates an association that they feel are using the AtHomeNet website services in a special way. Be sure to visit often for great ideas you can implement in your own association!
This Month's Spotlight Community is The New Mexico chapter of the Community Associations Institute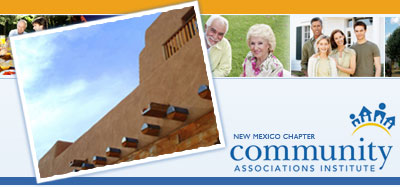 Located in Albuquerque, the chapter was founded in 2009 and has an 8 member board of directors comprised of community management professionals. "Having a local chapter allows for those in the management industry in New Mexico to have extensive industry education, take required certification courses locally, stay appraised of legislation for our state and have direct contact with business partners available to us in our area," remarks Communications Committee Chairperson and website administrator, Lilah Odam.
The organization keeps chapter members informed with tons of website content and quarterly newsletters promoting educational opportunities and important legislative updates. The website also features photos of chapter events, meeting minutes, and helpful articles about Homeowners Association living! The most popular features of the CAI New Mexico website are the Calendar and Announcements which are featured on both the Public and Private Home Pages, making it easier for members to find important information.
Lilah utilized the Widget Wizard to organize information on their public and private home pages including the Events Calendar, Announcements, and a Newsletter listing. She also used the Free Form Widget to add a photo and brief introduction to the chapter, as well as a link to their Facebook Page. Her favorite feature is the new Facebook integration that allows her to add Announcements to the website as well as the chapter Facebook Page simultaneously. "Because I am responsible for updating both, this new feature really makes my job so much easier!"
If you're a member of a community or HOA in New Mexico, be sure to follow CAI New Mexico on Facebook and "Like" them to check out event photos and see their entire schedule of events. If you're not a member, find out how to join at www.CAINewMexico.com! Congratulations to Lilah and the entire CAI New Mexico chapter!
Did you know that AtHomeNet offers FREE websites for state and local CAI chapters in exchange for free advertising? If you're interested in learning more about our program, contact us at [email protected] or call 800.556.7852 for more information!
We are always searching for clients to feature in the AtHomeNet Gazette! If you would like to submit your community to be considered for the Community in the Spotlight feature, please contact us at [email protected] or visit the Administrator's website and submit the eForm!
For more information about organizational, non-profit, or small business websites, contact an Account Manager at [email protected]!