Community in the Spotlight
Every month our Support Team nominates an association that they feel are using the AtHomeNet website services in a special way. Be sure to visit often for great ideas you can implement in your own association!
This Month's Spotlight Community is Point Brittany Condominiums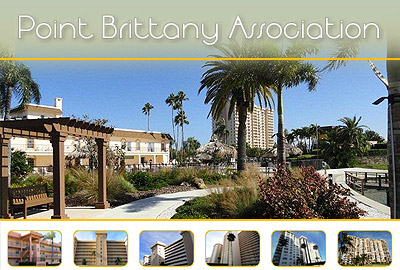 Nestled in the vibrant city of St. Petersburg, Florida surrounded by pristine sunsets and serene beaches, June's Community in the Spotlight has bragging rights of their own. Point Brittany Condominiums, awarded the 2011 Association of the Year by Community Associations Institute - Suncoast Chapter, boasts an active lifestyle in their beautiful region and is proud of the opportunities they are able to offer residents.
Built in 1968, Point Brittany Condominiums is the premiere 55+ community in Southern Pinellas County and features 10, 15, and 18 story high-rise buildings with breathtaking panoramic water views. The Board of Directors and management exceed expectations with their excellent cooperation and outstanding dedication to maintaining a high-quality life within the community. Residents define the true meaning of community at Point Brittany. They show genuine compassion and care for one another from remembering anniversaries to leaving a plate of cookies at a neighbor's door. According to Mr. Allen Darnell, "You are always family at Point Brittany."
This community has many activities and groups that keep their ages 55+ residents always anxiously engaged in some good cause. Keeping residents active, healthy, and social, activities range from yoga and tai chi to ceramics and art classes. Various groups like: The Men's Roundtable, Ladies of Point Brittany, The Point Brittany Yacht Club, and The Brassy Brittany Babes host a variety of monthly, weekly, and daily activities such as: luncheons with guest speakers, dinner dances, tea parties, and other exciting outings.
Darnell says that Point Brittany's Board of Directors, with residents' support, continues to ensure their community progresses with the changing needs of current and future residents. They use their website as a key point of communication between residents, committees, and the Board of Directors. Residents are able to stay informed and communicate in an efficient and cost-saving manner.
Congratulations, Point Brittany Condominiums on your recent award of Association of the Year, being an AtHomeNet Community in the Spotlight, and creating a wonderful community for your energetic residents!
We are always searching for communities to feature in the AtHomeNet Gazette! If you would like to submit your community to be considered for the Community in the Spotlight feature, please contact us at [email protected]!